The 2017 season was an amazing season in one respect, but was terrible for a few clients due to the constant wet weather patterns that afflicted us this season.
There were a few nasty storms that went through during the season causing us to be diverted, refused entry, and nearly hitting a tree when going through the Waioweka Gorge.  It didn't get any better as we went down the East Coast, and got to within a short distance of a client before being turned away by the roading contractor, due to the road being closed as impassable.  The journey continued quite uneventful, with steady downpours accompanying us throughout the journey.
There were about four stormy weeks that reduced the number of surveying visits that could take place.
Great Truffle Hunting
In between the awful weather, we had an amazing 2017 season.
Waikato/Northland
We have located more truffles for a client who found his first in the 2016 season.  Indy found both Perigord and Borchii at this property in 2016, and the same in 2017.  Really exciting when you locate the truffles on another tree in a different row.
Bay of Plenty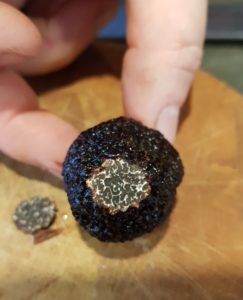 It was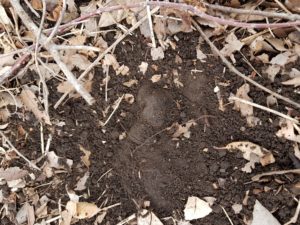 exciting this season…we had an amazing time with finding three clients first ever truffles.
One client wasn't available to wander with us, but they received photos of the truffle we left in the ground and of the one that was located on top of the ground, weighed and packaged ready for when we meet.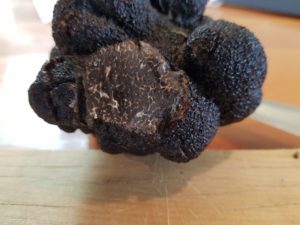 At another truffiere, due to the weather, we focussed on the trees that were known to be producing truffles.  We set another date for a full visit to check the entire truffiere.  As we wandered through the rows on leaving, Indy leads us to a new row of trees and gave an indicated.  Imagine our surprise when the client located a 226 gram truffle.
Our next truffiere visit Indy was working well through the truffiere.  We had a few people watching us as we walked up and down the rows.  The wind was swirling through in different directions, but Indy worked well and took us to a tree locating the truffiere's first truffle.   I get so excited when I locate truffles, even more so for a clients first ones.  On this occasion I got invited to go fishing with them because they loved my enthusiasm and excitement on locating this piece of black gold.  Unfortunately we only found one this time, but next year…
Another first find occurred at a new clients. We located first truffles throughout their truffiere with between 1 and 3 at each of those trees.  It was a lovely winters day, and locating these truffles just made is all that much nicer.
Hawkes Bay/Wairarapa/Manawatu/Taranaki
We have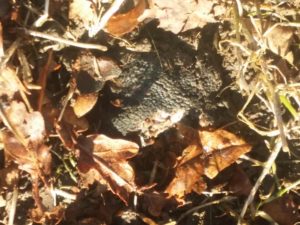 several clients in these areas and have enjoyed travelling around completing searches for them this winter.
On a beautiful winters morning we found some lovely truffles on some oaks.  The client elected to leave them in the ground at this time, so no weights available on any of them.
That was a short review of the 2017 season .
We are looking forward to meeting you all again in 2018.