Truffle Dog Services is a boutique company that provides personalised truffle surveying of your truffière, or Truffle Orchard.
My name is Karen and I have been involved with dogs for 20+ years in a variety of different roles.  But this is the most exciting and rewarding of them all.  The enjoyment I get from teaching a dog to complete a set of tasks leading to searching for a specific scent.  Truffle is only one type of scent, there are so many more that dogs can learn.
Training is reward based using either food or ball rewards.  The dogs are enthusiastic learners, and more importantly they are enthusiastic hunters.  The dogs utilise both ground and air scenting during their searches to locate the specific scent and gain a reward.  They are worked up wind to keep them focussed on hunting close to the ground, as winds swirl and change, the dogs also have the opportunity to air scent as they work, and return up wind if required.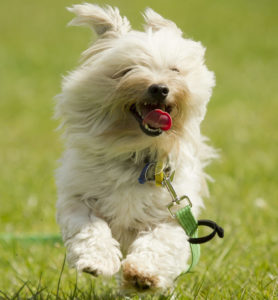 The Beginning…As I sat with friends chatting over wine at their property the discussion turned to getting a dog to search for truffles in their truffière.  I was already working on a dog for scentwork, and suggested that I teach it the truffle odour, and he would be ready for the up and coming 2011 season.
It was 2011 when Ollie (Sydney Silkie x Maltese) started training, and Truffle Dog Services began.
It wasn't the start of love for training dogs.  I have been involved in formally training dogs since 1996, at the local dog club.  Learning the intricacies of training through Paddington Bear (Paddy), a Tibetan Spaniel.  Tibetan Spaniels have a reserved character, and don't lend themselves easily to learning obedience training, tricks and agility, but doesn't necessary mean that they cannot learn, and he did.  Paddy learned amazing and extended my learning throughout the 14 years of his life.  His highlights were presenting at a large dog gathering in Mangere in 2001, through to gaining his one and only clear round in agility.  At the age of 14, and the same week that he passed away, Paddy had started to learn to track using Steve Whites HITT tracking method.  Paddy helped me with a number of dogs that came and went within my care, Ollie being one of them.
We started our formal training when we started with Kay Laurences original online Clicker 1 and Clicker 2 courses. Kay inspired me so much to question about how we train and how dogs learn, and has led me on the path of following, and meeting, other great leaders in the dog training world.
In 2005 I was sitting at Auckland International airport waiting to meet Karen McCarthy who I had only met on the phone.  We had had a number of conversations since both had decided to attend Kay Laurence's training days at DogTec* in San Francisco, then traveling down to the Clicker Expo in San Diego.
San Francisco was amazing.  As well as attending Kay Laurence's training session, also met Veronica Boutel of DogTec*, and spent time with Kelly Gorman, and Ian Dunbar.  We had the amazing privilege to stay with Kelly Gorman, and Ian Dunbar.  Kelly was an incredibly hospitable host who introduced us to local people, including Martha Hoffman from San Francisco Hearing Dogs.
One of new ventures that came out of San Francisco was being able arrange Ian Dunbar for his inaugural visit to New Zealand in 2008.
The Clicker Expo was beyond my expectations.  Meeting Karen Pryor, Ken Ramirez, Kathy Sdao, Steve and Jen White, Jesus Rosalez-Ruiz, Alexander Kurland, Jane Orr and Theresa McKeown from TAGTeach, and so many more was an incredible experience.  We become know as the two Karen's from Middle Earth when providing a human solution for Kay Laurences Clicker Challenges that were completed during the lunchtime break.
The learnings from then, and the additional learnings since, have sent me on the fascinating journey of arranging international speakers to present here in New Zealand and now the enjoyment of working with my dogs as a team through scentwork.
Learning never stops, and we believe in continuing professional development.
Year
Description
2018
Attended the Barcelona Truffle Tour to learn more about truffles, the methodologies in growing and harvesting them.
2017
Canine Principles - Scentwork Enrichment
Bob Bailey Seminar, held at Guide Dog Services, Mangere
Jane Killion - Puppy Culture
2015
Grisha Stewart - BAT
Theresa McKeown - TAG Teach
2014
Dr Ian Dunbar
(first visit 2008, then 2010)
2013
Dr Susan Friedman
(First visit 2008, then 2010)
2012
Dr Patricia McConnell (http://www.patriciamcconnell.com/)
2010

National Certificate of Adult Education and Training - Level 5
2008
Massey University:
Principles of Canine Behaviour
Canine Health and Husbandry
2005
Kay Laurence @ DogTec

Clicker Expo - San Diego