Indigo (Indi)
A Cocker Spaniel, Indigo is a fast and focussed hunter. She checks each tree thoroughly and quickly, and thrives on her work. Indi can locate truffles in a variety of weights up to 15 cm underground.
Indi locates T. melanosporum (Périgord), T. uncinatum (Burgundy), T. borchii (Bianchetto), and T. Brumale.
The 2018 season was steady for Indi with her locating first time truffles in six different truffières, for clients in the North Island.
Tigga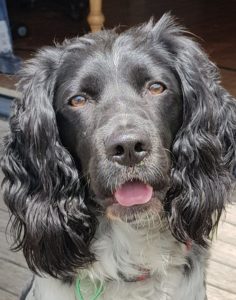 Hailing from the South Island, Tigga is an 18 month old Springer Spaniel currently working towards the end of her training. In her first week she joined me for a demonstration at Unitec to show students how truffles are found. Tigga enjoyed all of the pats and treats from the students and was reluctant to leave.
Tigga is progressing well and can locate truffle baits up to 5cm underground. Her training continued over the summer and autumn seasons and after completing several hunts where Indi supervised and double checked her work is now up and hunting on her own.  She has completed several searches by herself, including an early evening search.
Zorro
Zorro joined the team from Moira Briscoe, a truffle orchardist.  Zorro is nine months old and learning the art of truffle hunting.  He spent his first few months with a family friend who introduced him to life in the city before joining the rest of the crew.  Zorro is doing well in learning his new trade.