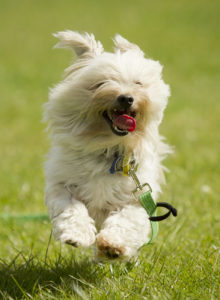 Ollie was the most amazing dog and taught me so much about scentwork.  He completed a couple of seasons, and has since retired.
Ollie represented Truffle Dogs in the book Dogs in Action by Maria Alomajan.  In Nov 2013 Ollie appeared in the Waikato Times whilst truffle hunting at my friends truffière.
The dog team grew with Indigo (Cocker Spaniel) in 2013,  Haggis in 2015, and Tigga in 2017, both Springer Spaniels.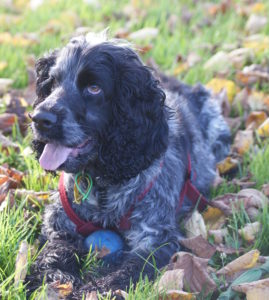 Indigo (Indi) was a family dog that was always looking for, and successfully finding, trouble. Since being trained to hunt for truffles, Indy has calmed down, kind of, and is a fast and focussed hunter.
Indy checks each tree thoroughly and quickly, and thrives on her work.  The 2017 season was steady for Indy with locating first time truffles in three different truffière's, and truffles on new trees, for clients in the North Island.  Indi can locate truffles in a variety of sizes from approx. 180 grams through to the size of half-a-pea 15 cm under ground…now that's impressive.
Indi locates T. melanosporum (Périgord), T. uncinatum (Burgundy), and T. borchii (Bianchetto).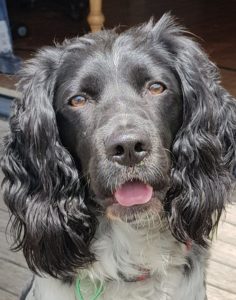 Tigga is 18 months old.  Tigga flew from the south island to join the team and is settling in well.  In her first week she joined me for a demonstration at Unitec to show the students how to search for truffles.  Tigga was introduced to the truffle smell at the demonstration, and took her new role with enthusiasm. She enjoyed all of the pats and treats from the students and was reluctant to leave.
Tigga is progressing well and locating truffle baits up to 5cm underground now.  We will continue her training over the summer and autumn season so she will be ready to complete truffle surveying in the 2019 season.  Exciting times.

Haggis was successful in the 2017 and 2018 season locating approximately 1-2 kg of Perigord truffle both seasons.  Haggis located both T. melanosporum (Périgord) and T. borchii (Bianchetto).
Haggis suddenly become seriously ill in May 2018 and my beautiful Haggis was euthanised in June 2018 and is so sorely missed.