As dogs get older, they lose their ability to smell. We always have dogs at the peak of their scenting ability and physical agility. Truffle Dog Services New Zealand is constantly training new dogs to ensure we look after your truffières while the dogs are in their prime.
Indigo (Indi)
A Cocker Spaniel, Indigo is a fast and focused hunter. She checks each tree thoroughly and quickly and thrives on her work. Indi can locate truffles of a variety of weights up to 15 cm underground.
Indi locates T. melanosporum (Périgord), T. uncinatum (Burgundy), T. borchii (Bianchetto), and T. Brumale.
Zorro
Zorro joined the team from Moira Briscoe, a truffle orchardist in the South Island.
Zorro has proven that he has learned the art of truffle hunting in the 2019 truffle season locating his first T. melanosporum truffles in three different truffières (approximately 2 kgs), at the grand age of 8 months.
He is carrying on his learning during the off season in preparation for working the 2020 season.
Tigga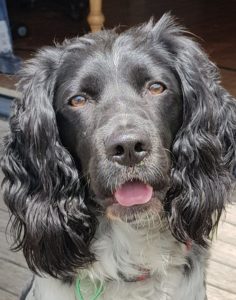 Hailing from the South Island, Tigga is Springer Spaniel currently working towards the end of her training. In her first week she joined me for a demonstration at Unitec to show students how truffles are found. Tigga enjoyed all of the pats and treats from the students and was reluctant to leave.
Tigga is progressing well her truffle training and locating different quantities of truffle bait at varying depths. Her truffle hunting practice is in a hiatus this summer (2020) as she is the proud mother of six adorable Springer puppies.