The 2017 season was an amazing season in one respect, but was terrible for a few clients due to the constant wet weather patterns that afflicted us this season.
With new clients this year, it bought on new adventures whilst driving around the North Island.  These adventures were sometime placed on us via Mother Nature, who provided us with some really nasty weather patterns, which cause some thrills to our journey.  The stormy weather created perils on our journey including being diverted, refused entry by Roading representatives, tree laying across the road (Waioweka Gorge), waterfalls coming down the hillsides with enough force to gouge riverlets in the road.  This affected several customers over this season, which was unavoidable, but we tried our bests to reach you all to survey your trees.
That being said, in between the storms, we had some great truffle hunting experiences with some new truffle locations in some areas.
Waikato/Northland
First location of truffles in the 2016 season has lead to a client having more success in the 2017 season.  This season Indy located truffles (T. Melanosporum) on a new tree within their truffiere, with the previous tree not producing this year.  Both of these locations have been on Oak trees rather than the interplanted hazelnuts.  Which is the reverse for most of my other clients locating truffles.  We also found T. Borchii, which they also grow.
Bay of Plenty
The Bay of Plenty has always been a strong producer of truffles, and this season was no exception.
Indy's work is appreciated at all of our clients, but one especially we always love doing the early morning searches at dawn.  As the early morning sun starts to evaporate the early morning dew or frost, Indy is full on searching and locating T. Melanosporum.  She has the tenacity to keep going and even during enforced resting periods, you can see her nose working.
Haggis had a fabulous time here as well and whilst on show for a group of people, kept them all busy digging up truffles after he had shown them where they were.  The group appreciated the opportunity to not only see Haggis working, but understand more about the ripeness of truffles and when to dig them up, and when not to.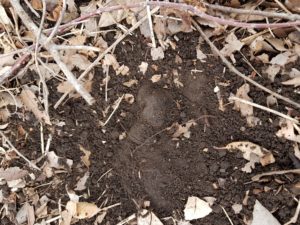 I have a lot of trust and faith in both of my dogs, and they work tirelessly.  Indy and I attended a clients property, without the client, and find the area hard to search for heath and safety reasons.  Even so, Indy indicated on a truffle before I stopped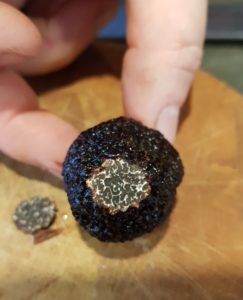 her working.  As I was checking, and identifying where the truffle was, another truffle was sitting on top of the ground.
Photographs were sent of the truffle left in the ground and how they would identify where it was.  Whilst the one that was located on top of the ground, was weighed, packaged, and dated in preparation of when we met later in the season.  I was so excited to deliver it to them.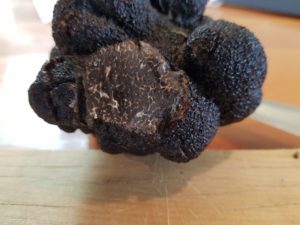 Weather, as mentioned earlier, was a factor throughout the season.  Whilst surveying, we have to make decisions of continuing or not.  On one occasion we were working, and due to the amount of rain that had arrived, we checked only the trees that we knew were producing.  As we wandered through the rows on leaving, Indy leads us to a new row of trees and indicated.  Imagine our surprise when the client located a 226 gram T. Melanosporum!
The fun didn't stop there on that day.  At our next visit Indy we had a few people watching us as we walked up and down the rows.  The wind was swirling around in different directions, but Indy worked well and took us to a tree locating the truffiere's first truffle.   I get so excited when I locate truffles for people, even more so when it is a clients first ones.  On this occasion I got invited to go fishing with them because they loved my enthusiasm and excitement on locating this piece of black gold.
Then at the third clients for the day, another first find occurred. We located first truffles throughout their truffiere with between 1 and 3 at each of those trees.  It was a lovely winters day, and locating these truffles just made is all that much nicer.
Hawkes Bay/Wairarapa/Manawatu/Taranaki
We have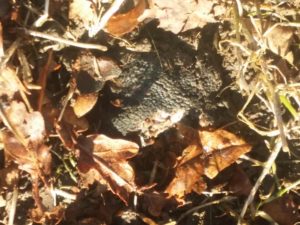 several clients in these areas and have enjoyed travelling around completing searches for them this winter.
On a beautiful winters morning Indy located truffles on a few oaks.  The client elected to leave them in the ground at this time, so no weights available on any of them.  But a great first find again.
Congratulations to all of our clients that located truffles this season, Indy, Haggis and I thank you for asking us to help you survey your trees for different varieties of Truffles.  It is a waiting game for those of you that have not produced before, but I am sure your time will come, and we look forward to being there for your first find.
We are looking forward to seeing you all again in the 2018 season.